Yesterday my friend and colleague Paul Groves and I gave a joint masterclass for some young singers at LSU, and it was a huge treat! What a magnificent group of singers we heard! It was such a great experience listening to these clever music students, as one never stops growing as an artist, and there's always much to learn. There was a great variety in the pieces we worked on but the fundamentals of great singing are always the same. Singing in the most efficient way, singing on the breath, and always communicating a story. That's why we perform after all!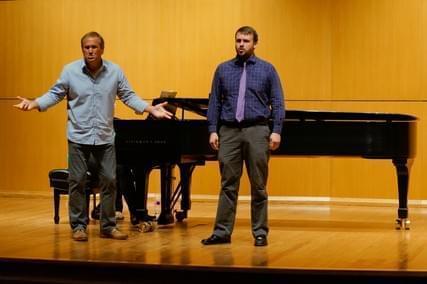 In The Choirmaster's Burial by Britten, Paul gave sweet voiced tenor Jonathan Ray some thoughts about changing up the voices for the different characters described in the piece, as you are always telling a story. He encouraged the singer to open up his interpretation to include more free, spoken-style rhythms. Jonathan gave us some wonderfully original ideas and made us all laugh…and cry!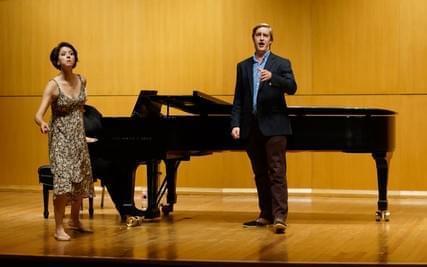 In Aprite un po' quegli'occhi, I worked with young bass baritone Michael Bade on breaking the third wall and addressing the audience, convincing himself and telling all, that women can't be trusted. While the frustration in the character grows, I encouraged Michael to "drop the weight" of the breath in between phrases to maintain control. He was really inviting to direction, and fearless. Wonderful to work with someone who is so open.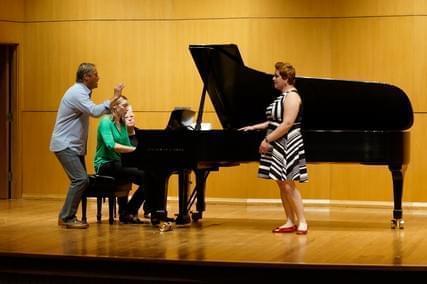 Our first young lady of the day was mezzo Chelsea Geeting, who sang the Composer's aria from Ariadne. Her voice had so much glorious ease on the top and bottom, Paul worked with her on saving those money notes and easing back on the instinct to crescendo until the real climax…something that's not an easy feat when singing this glorious and passionate music!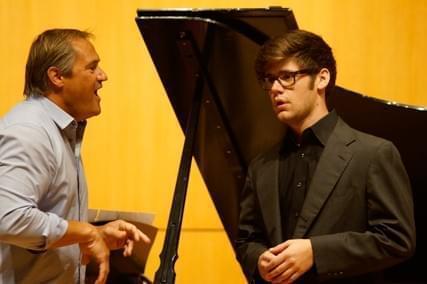 Automne by Faure was next, and Paul worked with Johnny Ballance on finding freedom within the scope of full body engagement. He encouraged the singer to open his jaw for a more open, resonant sound. He also worked on finding ideal, singable vowels within the French language. With his naturally exquisite sound, it didn't take much to bring new engagement to the song.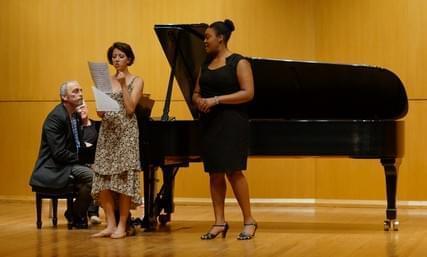 22 year old Zoie Reams sang Amour, viens aider ma faiblesse, from Samson. It was a pleasure to work with her on bringing out certain words in the French text, allowing her to take more time with them. When repeating the text, I encouraged her to find a different color or emotion, perhaps one of self-doubt, within the character of the vengeful Dalila. This young lady was exemplary in every way, very poised.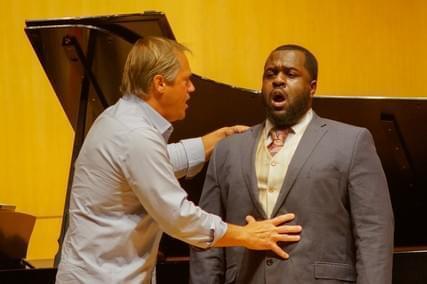 Next, we heard the Lamento di Federico (la solita storia del pastore) sung with passion by Lavonte Heard. His voice rang with ease, and Paul encouraged him in a similar way as Chelsea: save the money notes for the money moments. He helped him find freedom in the full body support of the notes with some contact work, and encouraged him as well to use different colors to his advantage. Stunning color and Italianate sound!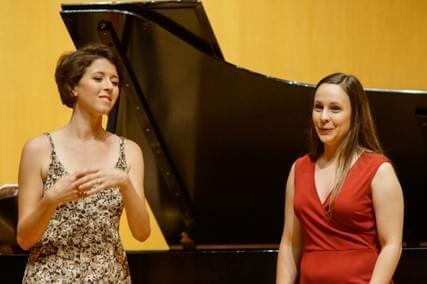 Our only soprano of the day was Amelia Sharp and she sang Juliette's Waltz. A lovely voice from top to bottom, we worked on the idea of high notes and cadenzas always having a meaning within any style of music. Experiment with dynamics as means of expression. I encouraged her to sway during the waltz section, but visualize the future in her mind when she got to the section that talks about enjoying the short spring of youth. When we got to the final cadenza, I let her know to take her time and enjoy the freedom.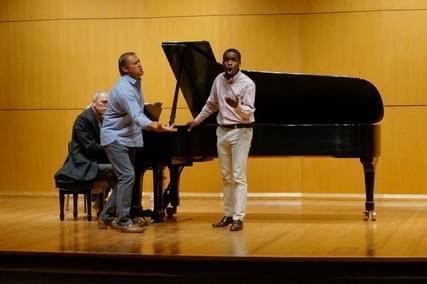 Last to sing was young Prentiss Mouton, who sang the iconic Una furtiva lagrima and Paul worked with him on getting his sound warm and lifted. Finding the most beautiful vowels is so much fun to explore, and with this bel canto masterpiece, it was a joy to hear the two of them trying different things. Using breath to control dynamics within the scope of the phrase, Prentiss was a natural, and picked up the ideas like a pro.
Overall, we were so impressed with the level of talent at LSU this year, and truly it was a wonderful experience for both of us. It's refreshing to know that there are people who love this art form, and who have extraordinary gifts…the next generation of singers has got a lot to look forward to, and so do we. I feel privileged to have been able to hear each one of these young artists.