Yesterday I had the wonderful opportunity to interview with Laura Theodore of Jazzy Vegetarian! You can find a link to the interview at Blog Talk Radio. During the interview, I discuss my what brought me to opera, my vegan lifestyle while traveling, and I share one of my favorite recipes at the end!

Text of the radio broadcast below:
Laura Theodore: But right now it's my pleasure to welcome soprano and vegetarian Lisette Oropesa who has been hailed by the New York Times as an artist with a "magnetic stage presence". She has appeared with the San Francisco Opera, the Pittsburgh Opera, Chicago Symphony Orchestra and at Lincoln Center to name a few. Ms Oropesa received her bachelors degree with vocal performance from Louisiana State University and she is a graduate of the Lindemann Young Artist Development Program at theMetropolitan Opera. That was a mouthful. How are you today Lisette?
Lisette Oropesa: Hi there, I am doing very well thanks.
Laura: I am so glad you can join us today, I know you are one busy lady I know you are one fabulous, fabulous singer. Actually we are going to take a break shortly and give everybody a little taste if they stick around to the end of the show. First I am going to ask you, that fabulous voice...when did you first know that singing was your passion?
Lisette: Well, I've been singing since I could walk. I was singing in the womb I always joke. My mom was a singer as well, my grandfather was an amateur singer, it runs in the family. So I have been always been.. just really aware of music. It has always been in my life. Anyway, I grew up in a musical family, I grew up playing instruments all my life. My mother plays the piano, I play some piano. I played the flute for many many years. And I always knew music was for me. It just turned out that singing was kind of what I was the best at, of all of the talents I guess, it ended up being what I majored in in college, and was how I got into singing professionally.
Laura: You have done so many amazing and amazing roles. We have it listed on the radio site and we have a lot of what you have done. It's absolutely amazing. If you have to choose one of your best loved roles? I know it's tough, but what would that be?
Lisette: You know there are a lot of beautiful things and I am always learning new ones and going oh "This is my new favorite!" but one of my favorite roles of all time is Lucia di Lammemoor by Donizetti. The famous mad scene you know is every soprano's dream where you are on stage for 20 minutes and you just murdered a guy on your wedding night, and you're covered in blood and you're with a giant knife and you sing for 20 minutes and everybody just has to sit and watch. It's one of the most beloved scenes in any opera, truly, and an incredible challenge for any singer, for any actor really. So Lucia is probably my favorite.
Laura: I love it, wow, I wish I could see that! Well lets get to another subject. What initially inspired you to embrace a vegan diet?
Lisette: Well, it was for my health. You know, my family has a lot of medical problems, medical history. Everything from cardiovascular problems, to diabetes, to obesity. All those things run in my family, quite unfortunately kind of all over the place. So when I started losing weight, I used to be very very overweight, as I started losing weight, I was just learning more about nutrition and more and more about overall health, how to support your fitness, your activity level with what you eat.  The more I learned more about it, the more I realised you know, I think that plant based was the way to go for me. I started running vigorously. I've been running for two years regularly. I am preparing for a full marathon, my first marathon December 1st this year. I am really excited about it. I've just been doing a lot of reading about what the best fuel is for activity. I am a firm believer that whole foods, plant based is the best way to go. It really truly is, honestly, you know when I was younger when I was eating nothing but fast food, I was eating meat all the time, and I was eating dairy all of the time. I always felt and looked miserable. I had bad skin, I had bad hair, you know I was overweight, I had low energy, and now, you know, I have 10 times the energy, my skin has cleared up a lot, my voice feels fresh all the time. I am in a positive mood, all the time. You are what you eat and for me that was absolutely the best way to go.
Laura: Yeah, yeah, that's incredible and what an inspiring, inspiring story.
Lisette: Thank you
Laura: Now here's the scoop. A lot of us travel. A lot of us have trouble eating, you know when we go out, staying vegan. How do you stay vegan while traveling so often. I would love it if you would share some great tips for travelling while still keeping to a plant based diet.
Lisette: Well sure, you know, it's a lot easier to do it in the States than it is in Europe, and that's not saying much. There are certain cities in the United States that cater a lot more to vegan people. You know, San Francisco when I stayed there for a few months and I was working on Xerxes there, it was dream come true. There were vegan restaurants everywhere. And that was great, but there's other places, you know, middle-America where you don't have so much variety. The best thing to do, honest to god , always, is just go grocery shopping. Go to a grocery store, it's the first thing I do when I arrive in any city. I always make sure that wherever I will be staying there is a kitchenette or some sort of form of where I can heat something up and where I can  keep things cool. I always go to the grocery store, hit the produce section, It's the first thing I do. I get natures candy snacks. You get bananas, you get oranges, you get apples. Things that are easy to peel, eat and go. And things that make a great breakfast, that make a great pick me up, sometimes I pick up granola bars and things. You always have to check the ingredients, they're not always 100% vegan.  But nine times out of ten you can find granola bars, snack bars and things that are healthy. Now you can see a lot of raw things. It is kind of a revolution now in prepared foods, I suppose. To find more things that are raw and really just full of wonderful ingredients. The other thing we always do is, if I can, I travel with a blender.  Because a blender, you know, we have wonderful a Vitamix that I couldn't say enough good things about. If you pick up some flax seeds, some protein powder, we use hemp protein powder, and you pick up almonds, you pick up raw chocolate, you pick up bananas and you pick up some mangos. you got a fabulous breakfast that will keep you full all day long. They are wonderful.  We have one almost every day, especially after a workout, they are wonderful recovery shakes. They leave you full and they are full of nutrients, and they are completely raw and completely plant based. Another thing is, when in absolute, "must have" to eat at a restaurant, try to find a Mexican place.  Or an Indian place, Indian is the other great place. Any burrito can be made vegan, easily. And it's delicious, and if you get beans and things like that, you've got your protein, you've got your carbs if you get some rice in there. You get avocado, tomato. You get all these wonderful veggies that they use traditionally. Just without the meat and cheese. You have a perfectly healthy meal right there. The other thing that we do is Indian food. You know ⅓ of India is vegetarian. You can always find something on the menu that is absolutely plant based. Whether it is lentils, rice beans, you know, greens. They use spinach, ahh, it's fantastic. The flavors in Indian food particularly are really really delicious. For people like me, who, you know, I love tasting what i'm eating, and as a vegan actually I think you develop a more sensitive palette. Because you start to taste the differences between fruits and vegetables. Your mouth isn't full of chemicals, and you're not tasting a weird sugar taste, or a chemical salt taste or whatever. You are tasting an actual plant... nutrients, and your body starts to crave those things and you start to seek them out. It just gets better and better, the more I do it.
Laura: Great great great tip. I love every tip you gave and I agree with you 100%. I get off that plane and I go to the grocery store. Let's take a break here for a minute.
[ O mio babbino caro plays ]
Laura: Well, that is a little bit of a taste, we're gonna be hearing something later here on in the show, Lisette. Tell us about the track we'll be playing on later on.
Lisette: That is O mio babbino caro from Puccini's Gianni Schicchi, You know the piece sounds very very beautiful and nice and everyone thinks it's such a romantic piece, but in actuality it's a young girl begging her father to give her what she wants. So she kind of sings "Oh please please let me marry this guy! I'm crazy about him, if you don't do it dad i'll throw myself in the river!"  So that is the text of O mio babbino caro. A really great moment in the opera.
Laura: Wow, And it is beautiful, so everybody stick around for that. And talking about performing, where are you going to be performing this fall to give us an idea where someone might catch you in various places?
Lisette: Sure, yeah, I'll be in Arizona in October and November performing, sorry October. Performing Lucia Di Lammermoor, my favorite piece. In Tucson and Phoenix, so there's a few performances there. You can refer to my website and get the whole calendar there. That is lisetteoropesa.com and then in November I'll be in Detriot performing Giulio Cesare, the leading role of Celopatra in Cesare there. That's going to be a role debut for me and one that I am very excited about. That's in Detroit in November.
Laura: Wow, I'd love to see that, that's sounds fantastic. What can people learn more about you, where can we go on the web.
Lisette: Yeah, I've got a website, it's lisetteoropesa.com, just my name, you know, straight no spaces or anything. I have some youtube videos that have been set up, there are all kinds of  fan videos that have been posted lately.  I've got a professional facebook page. There aren't many Lisette Oropesas so if you just google me you can definitely find me.
Laura: Point well taken. now I know you are into food as you know obviously I am. so I would be thrilled if you would share one of your quick and easy recipes with us before you leave us today Lisette.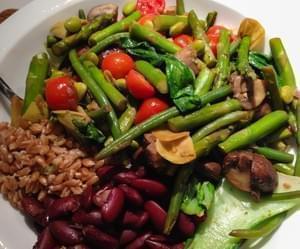 Lisette: Sure I'd love to. One of the things that i like to do is to watch the Food Network. They never have anything vegan on there so it's kind of my guilty pleasure. But once, Giada de Laurentiis did a vegan plate and we made it here at home and it's one of my absolute favorites.  And it's an asparagus, cremini mushroom and tomato stir fry. It's very simple. You start with some olive oil in the pan, you get some shallot and garlic going there. You add in chopped asparagus, you can chop it up as big as you like but we like to do it really small but some size. You add a container of cremini mushrooms, quartered, let that simmer for a bit, let it release the juices. Then a couple minutes later add a box of teardrop tomatoes or cherry tomatoes, however the way you like tomatoes chopped up, we like the baby ones with different colors, baby heirlooms are really nice. Then, we simmer that up, let that be a stir fry; it takes about 10 minutes. We make a quick dressing to go on top with some tarragon, a little bit of white wine vinegar, and some olive oil.  Good olive oil, the one that tastes really good. We just drizzle that right on top, and it's done in 10-15 minutes. It's fantastic, it's absolutely gorgeous. The vegetables are all bright, the colors are vibrant. It's a really really a great recipe.
Laura: I sure wish you'd come over and make that for me right now.
Lisette: People say that to me all the time. I put pictures of what I eat on facebook and everyone says "Oh you have to open a restaurant!" Now it's my other dream.
Laura: I love it, I love it. really really great to catch up with you and really great to learn more about you. It's just been a pleasure having you here with us today. I wish you the best of luck in your career and in everything you do and thank you so much for sharing with us today.
Lisette: Thanks so much, I appreciate it. Go Green!
Laura: Go Green, Be well!
Lisette: Alright
Laura: It's the beautiful, the talented, the lovely, soprano and vegetarian, or soprano and vegan I really should say, Lisette Oropesa, you can visit her at lisetteoropesa.com. And we're going to be playing that track for you as we move out of the show today. It's a live track and it's really really beautiful. She sings so beautifully.